Domaine Castel Oualou
Domain Castel Oualou was created in 1961 in the heart of Lirac's appellation. Jean-François Assemat, after his studies in oenology, decided to buy some land in the Lirac area. The vines were fallowed, they were cultivated before the phylloxera attack. After some time and efforts he managed to bring the vines back in even a better shape that they were before. The vines are on sandy and clay soil, ploughing and treatments in the vineyards are carried out with due consideration for nature. The wines are Terra Vitis certified. The average age of the vines is 50 years.
About Lirac (AOC)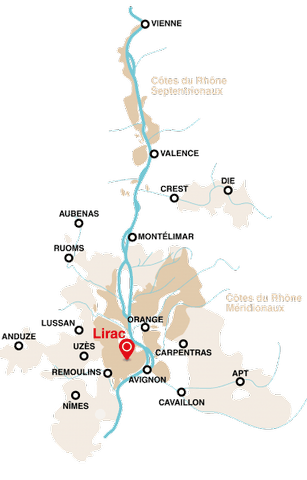 Lirac is a french wine growing area (AOC) in the department of Gard situated in the low hills along the right bank of the Rhône river in the southern Rhône wine region of France. It was named after the village "Lirac" a tiny place with only 850 inhabitants. In 1945 after years of improving their techniques, Lirac obtained the highest distinction an became a cru, one of the 13 crus of the Rhône valley family. On the opposite river bank is the famous Châteauneuf-du-Pape vineyard. Lirac is the oldest wine in the Côtes du Rhône region and was the first to be produced in all three colours: red, rosé, and white.